1. I survived the first week back at the middle school! Monday was a teacher work day, so we only had the kids four days this week. Tuesday was about five years long, but each successive day went a little quicker. Kim and I kind of team-taught this week, but starting next week for 8 full weeks in a row (right til the end of 3rd quarter, actually), it's all me, baby. Here we go!
2. I really wish I would either GET this cold, be miserable all weekend, and get over it, or NOT get this cold, and be done. I'm tired of a little bit of a drippy nose, a little bit of a sore throat, occasional coughing....
Make up your mind, you stupid bug!!!
It's been a week!
3. Casual Fridays at the school make me feel weird. I have exactly one pair of jeans that's comfortable to wear all day and still look good. So to school, and almost everywhere else, I wear skirts and dresses, or dress pants/khakis. Today I wore an old pair of Matt's jeans that he bought in the wrong size but didn't realize til he'd worn them (squished) for a while, so it was too late to return them. They're comfy, yes, but not the most flattering jeans on me.
4. Why do guys' jeans get REAL POCKETS? I can fit my whole hand in the front pockets of those jeans! Yet girlie jeans have leetle bitty pockets about two inches deep--they don't hold anything, and it's lame. Not fair! (I went to Goodwill this afternoon and got 2 "new" pair of jeans--nice ones!--for $5 each! Yay, now I have girl jeans. Even if the pockets suck.)
5. Here are really bad pictures of our new bedroom: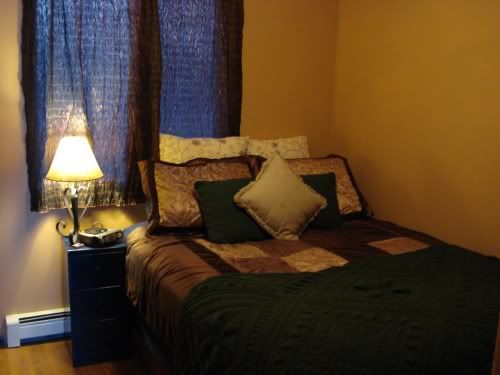 The walls are a little more tan than orange in real life, and the curtains are dark brown but look blue because of the sun coming through them. Matt's aunt amazingly knitted us that blanket for a wedding gift.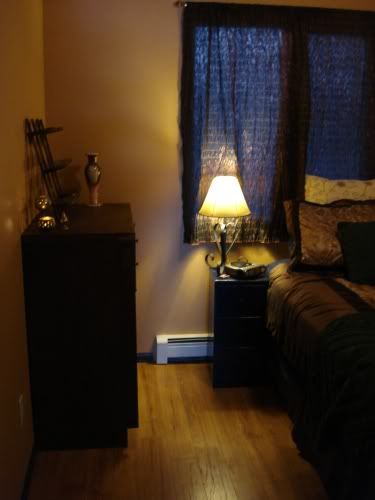 Obviously it needs some work--accessories, for sure--but I'm really pleased with it! I think the floor Matt put in all by himself looks awesome! I think my painting job of the walls, ceiling, and trim (as well as the back of the door, which is dark brown like the trim) is also awesome! If you have any ideas about how to make it look like the cabin of a steampunk airship captain, let us know!
6. Goals for the rest of the school year (I'm not saying the whole year because, well, one thing at a time; I'll set new ones for the summer, then again for the fall):
a. go to bed earlier
b. spend more time with Matt
c. eat less junk
d. keep the house a little cleaner
Nothing huge and drastic. I just want to make small improvements, a little at a time. And mostly I want to survive this semester, so the less extra stress I put on myself, the better.
7. I really really like this comic,
Copper
. Especially
this one
and
this one
(hmm, see #6 above). It's about a boy and his dog, and the magical, imaginary worlds they spend time in together. Cute, funny, touching... sometimes all three at once.
8. Poem:
Ugh, such a long week.
Friday now, and I'm tiiiiiired.
You get a haiku.