1. 8 minutes left in Friday, so I'll be fast!
2. Birthday party for two friends tonight (combined). Peach pie, tea, homemade ice cream that was mostly a puddle when I got there. And then a fire and s'mores! Haven't had those in probably years, since we haven't been camping for probably years. Yummm. My hair smells like woodsmoke now. Was good to see the two friends, and meet
their
friends.
3. Was on campus Wed-Fri for all-day (9-4ish) classes to start off the Summer semester. Learned a lot about the program itself, but not too much about teaching so far. That's okay, though, that's what the 5-6 hours a day of online classes will be for!
4. AUGHHHH! I'll see you all in a year, I guess, because it looks like I won't have time to have a social life or anything else for the next year. See you in June 2010! Today the instructor said this "intensive" program I'm in crams the last 4-5 semesters of a traditional teaching program into TWO (2) semesters! I'm not freaking out (yet) but I do think... it will be an adjustment. Especially if I can't keep working full-time hours. I hate needing money! So wish me luck and be supportive, because I'll need it!
5. I can't type three things after this in the next three minutes so I'll just stop trying. Most of you probably read this on Saturday anyway.
6. Speaking of Saturday:
8am-9:30 : Work (we're opening early for a special tour sort of thing, blah blah)
10am-12ish : Baby shower!
1:30pm-9:30 : Work (regular work)
I don't waaaaaaaannaaaaaa!
7. Baby shower present: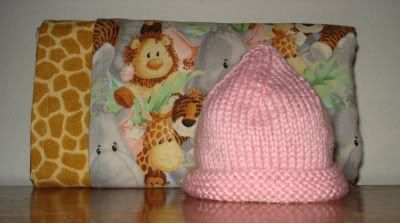 A little blanket about a yard square. Cotton fabric printed with jungle animals on one side, flannel giraffe print on the other. Just stitched, turned, topstitched, ta-da! Also, the first of the baby hats I started knitting last winter when I heard about all the pregnancies. Pink acrylic and size 5 needles.
8. My "week off" was nice. I didn't take it
totally
off from everything I said I would, and I didn't get the house as cleaned up as I would have liked, either. But it was nice not to feel "stressed" (in whatever manner or to whatever extent) to socialize and be out of my house. It was nice to just
do nothing
for a bit. I highly recommend it.