And this is the end to it: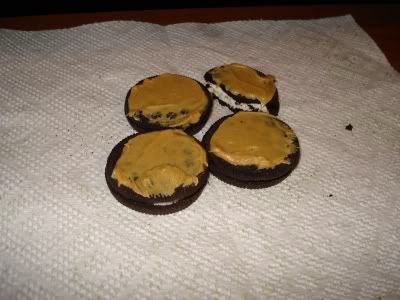 Oreos with peanut butter. Trust me, it's amazing. You
have
to try it if you never have.
In addition to finishing the Swap-Bot packages, I did THREE loads of laundry, went to the store, hit the post office, said hi to Matt at work while I was out, made dinner, went to the movie.... Whew! (Okay, so I haven't actually
folded
the laundry yet, but still.) On to the pictures!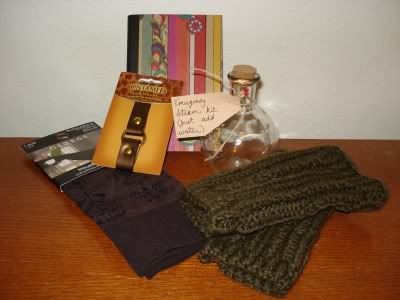 This is for the steampunk swap I hosted. The little notebook in the back has gears and swirlies on it. The bracelet is from Michael's, just like the one I was wearing in the picture meme the other day. My partner said she liked socks, so I got her some nice trouser socks with a pretty design on them. I knit the wristwarmers, and made the "emergency steam kit" inspired by something similar I saw on etsy.com. "Just add water"; the matches are to start a fire below the water-filled bottle, producing steam, of course! Kinda silly, but I thought it was clever (so I copied it, heh).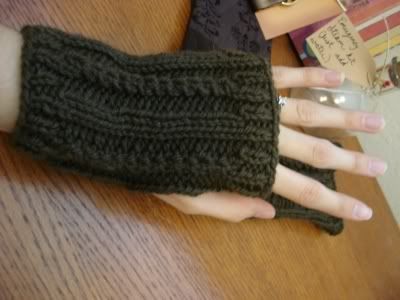 Closeup of the wristwarmers. My own "pattern," and the cables are fake mini-cables just two stitches wide.
I hope my partner likes it all! The requirements were to have five items with at least two handmade. I'm slightly worried about the glass in the mail, but I wrapped it in paper and packed tissue paper into the box so nothing shifts around. I think it should be all right.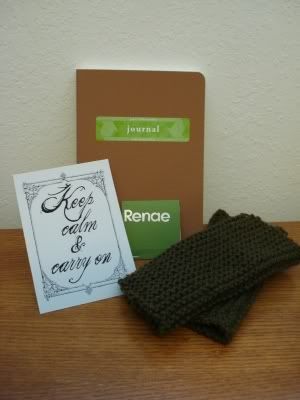 And this is for the NaNoWriMo Readiness swap. The only requirement was monetary, and I take into account the time I spend making things, too, so this should be fine. The notebook is of (fake) leather and recycled paper, which I think should please my partner as she's into organic and green stuff. I made the little matchbook notebook for jotting down notes at any time, printed up the mini-poster with a downloaded font and clipart border, and knit garter stitch armwarmers this time.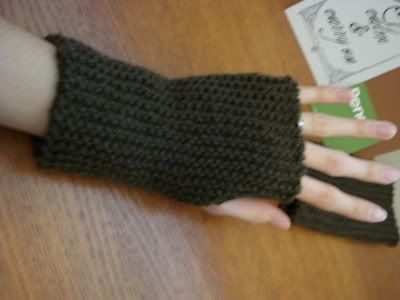 Sorry for the bluriness.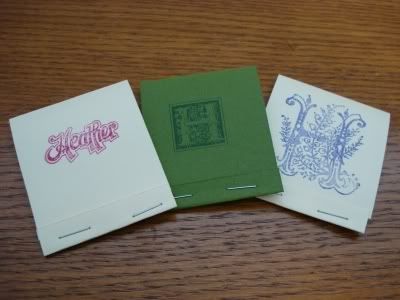 I also made myself some little matchbook notebooks. I ALWAYS have a scrap of paper in my pocket at work where I write down SKU numbers to look up, grocery lists, to-do lists, and.... Well, I steal names off of credit cards. Not for anything nefarious! But for character names for my writing. So rather than have a pile of folded up post-its or bits of register paper sitting on my desk when I get home, this way it can be all in one (cute) place! The paper inside is reused, too, from test prints and such.
No baby hat pictures tonight, sorry! Maybe tomorrow.