1. We picked out and bought the paint for the new kitchen, as well as all the other supplies! :) Go
here
, click on "Warm Reds," and type "Tomato Red" into the search on the right side. It looks horrid on my monitor, sort of pinkish and dull, but it's much nicer than that, really. I'm trying to think of something in real life to compare it to... Maybe a bit more orange than geraniums, and a little darker.
As a reminder, here's the kitchen: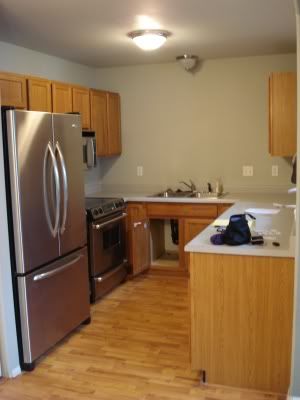 Keep in mind the new countertops will be medium-grey with speckles. The two walls you can see, as well as the third wall facing the living room, will be painted. Did I say the new theme for the kitchen is "sushi"? :D I think it will be so cute! I want to make a rag rug from old t-shirts that looks like a sushi roll (green on the outside for seaweed, white inside for rice, and pink in the center for salmon or whatever). Any links to sushi-themed fabric, knick-knacks, pictures, or kitchen doo-dads, if you happen to come across them, would be appreciated!
2. Now for plans for the sewing room! I might clip a few aprons onto a pretend clothesline on the wall, or hang them on pegs, but the rest I want to pin onto curtains and replace the lame sliding closet doors with those curtains! They'll look like they're almost made out of aprons, but I can still take the aprons off at any point and not damage any if I just use safety pins. I might also sew/pin doilies and hankies in the blank spots between aprons and make it really patchwork-y, we'll see.
I got a couple of nice wooden hangers on which to display my pretty vintage dresses. I hate that my Gunne Sax, my 60s homecoming dresses, and a few other neat ones, are just hung in the back of my closet and are worn either never or very rarely. Why not treat them as art? I'll put a couple hooks or pegs on the wall and rotate the dresses on hangers depending on what I want to see.
If I could find some decent-looking wig heads, I might put some of the vintage hats on them; HOWEVER, 1) having heads in my sewing room, especially at night and when it's dark, might freak me out out of the corner of my eye and 2) I'm not sure I'll have enough free horizontal surfaces (like bookcases or shelves) on which to put them. So the hats might go on the wall, too.
After this, if I have any wall space left (one wall is mostly sliding glass door, the other is mostly closet, and there's the door into the room in another wall), I might do something like
this
with a few of my favorite/most meaningful fabrics. Cute, huh? I got about 8 wooden embroidery hoops of various sizes at the Goodwill the other day for really cheap, too.
Oh, and I want a vanity in the sewing room. With just my sewing table and desk, there should be room. It would be so nice to have all my jewelry, makeup, and hair stuff in a place where I can sit down and get ready in the morning, with a nice little table, stool, and mirror. I described my ideal vanity to Mom--white, sort of curvy, with rounded edges and maybe moulding?--and she said it was "French Provincial." Lovely!
3. Good grief, are we only on three? All right, here's another picture:
Yes, it is a picture of a dirty, rather linty floor. But do you know what floor it is? It is the floor of the current craft closet! YES, IT HAS A FLOOR! I have discovered it! The overflow pile of laundry is GONE (it all fits in the hampers, now, and holy cow do we have a lot of clothes!) so you can SEE the FLOOR! If I'm ever not running around doing stuff for the new house/moving, or doing school, I could actually get in there and sort through stuff and pack stuff! CRAZY!
4. More pictures! The other day for lunch, I turned this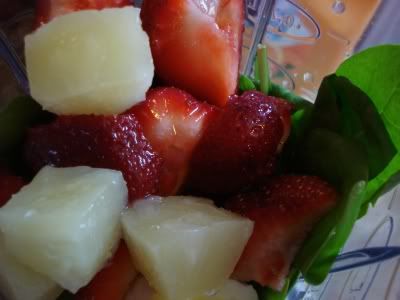 into this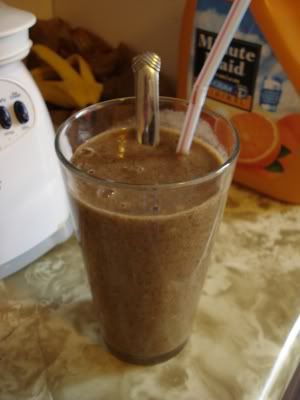 Appetizing, no? :P It was quite delicious. The addition of a banana helped to disguise the spinach taste completely, and the strawberries and pineapple plus OJ, made it very yummy! I will give you a tip, though: don't have this much fruit in one day, two days in a row. I'm just sayin.
5. SEVEN DAYS TIL SAN DIEGO!!!
6. Speaking of which, does anyone who knows San Diego have any fabulous places we simply
must
visit while we're there? (July 24th-31st) So far we have: one day of thrift stores, one day of the Gaslamp District, maybe one day at the swap meet. We'd like to visit the beach at least a couple of mornings/afternoons (not all day) and just lay around and read and be bums. :) Also want to hit the
Jim Croce restaurant/shop
because my mom has fond memories of his music from her youth, and we might go
Coronado Island Hotel
. We're not that interested in Sea World (been there, done that), nor do we want to drive far at all since we'll be borrowing my aunt's car while she's at work.
7. Goodwill is made of awesome! I needed new jeans that fit and weren't holey, and a hoodie that met very specific requirements (none of which my other 537 jackets had), and ended up getting not only classy wide-leg jeans and a lime-green hoodie, but the embroidery hoops mentioned above, white sandals (strappy, high-heeled) that I like a lot better than my current white sandals, two comfy knit dresses about knee-length, and a really 80s-looking cotton floral dress that I think is cute but might be a little tacky/lame in 2009. Don't care, I wore it anyway. Oh, and also our Christmas cards for this year because they were cheap, and a hot pink sheet to make into a dress/skirt/whatever. I need to quit buying sheets for fabric until I use up a few that I have! All that for just about $34!
8. If you could recommend one book on pregnancy/childbirth, what would it be and why? I want to get a few in the near-ish future to start looking ahead and considering all my options.