Tried something new the other day with my hair. I think it turned out kinda cute! I just washed it that morning and put it up in clips to sort-of dry, then did the rolls and put the rest in a side-ponytail that afternoon. Would've been cuter if the ponytail was a little curled, or at least not the usual bushy craziness it is right after washing, but oh well. (I did the same style for work the next day after sleeping in rag curlers; much better.) It actually stayed in pretty well, too, despite moving around a bit and being out in the wind a little. I think a combination of damp + spray gel works well to keep my hair in a style.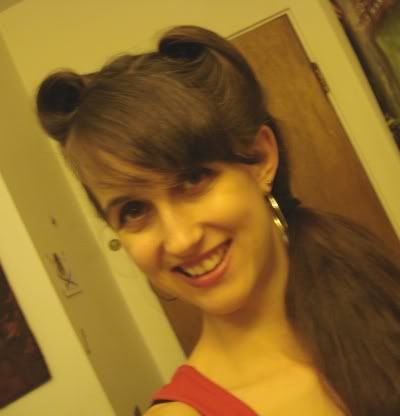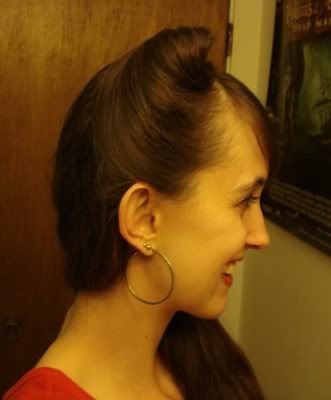 Whooosh!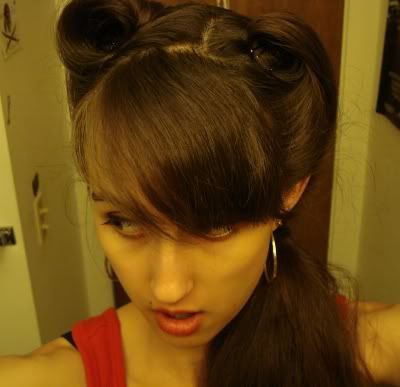 Arty pose

One just for fun: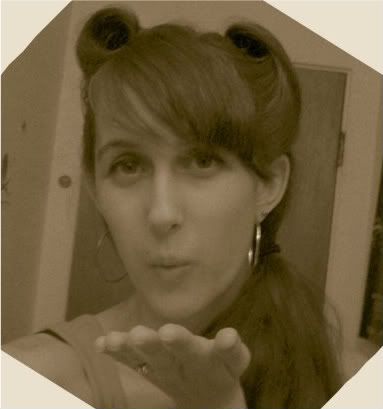 I wore this to Jen's baby shower (the one having twins), to which I brought these:
Both prints are 100% cotton. The green with ladybugs has solid yellow flannel backing, and the yellow with ladybugs has green solid flannel backing.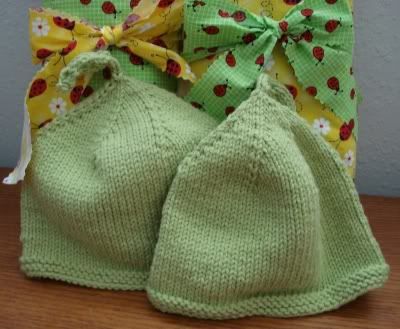 Hats I started when I first learned about all the pregnant ladies last winter. There are little leaves at the top; someone at the shower said to stick these hats on them, put them in orange, and call them pumpkins for Halloween!
I made great big calendars for June and July to keep track of my work schedules and Matt's, as well as school deadlines, trips, and holidays. I'm not referring to it a whole lot just yet, but I do like having both our work schedules in one place so we can plan things.
Third time in the space of a week that I've posted! Who knows where the insanity will stop??