The trip immortalized forever in a wholllle lot of pictures! Oddly enough, a lot of them are of food, but I'll only show you a couple of those. (We did a lot of eating. It was great.) I took about 80 pictures and whittled them down to 21.
Mom and I left here about 9:30 on Friday night and the two-hour flight got into LAX about 10:45--California time. (The trip home was "three hours" long because of the time change.) My cousin, Jennifer, picked us up at the airport since she lives about half an hour away, then we drove straight down to my Aunt Lori's house in San Diego, about another hour and a half. We arrived at Lori's about 1am and promptly crashed into our respective beds. Mom and I had their toy hauler/trailer in the driveway to ourselves, which was super nice.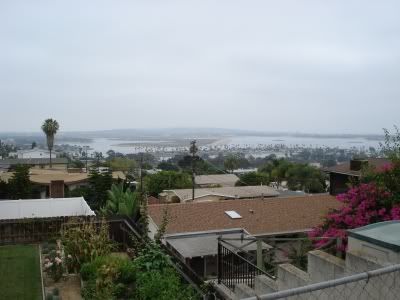 Here is the view from their huge picture window in the living room. Across the bay you can see the Sea World fireworks go off about 10 every night.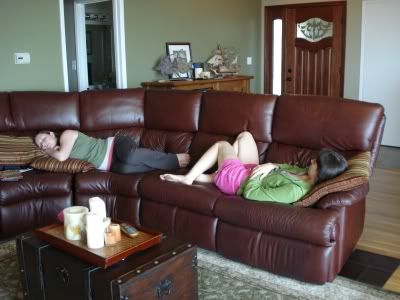 This is how we spent the first half of Saturday. It was amazing. Once we were finally dressed, we went to CostCo, since we'd made great plans of wonderful things to cook and eat that week. After dropping all that off at the house, Mom and I took Lori's car to the beach for a couple hours while Lori and Jen (who can go to the beach whenever they want since they live there) hit another grocery store for a couple more things. We came back and had a yummy dinner: a salad of greens with grilled chicken, fresh raspberries, carmelized walnuts, and raspberry vinagrette. Uncle Jeff was on a boat fishing with friends, and my other cousin, Curtis, was at his cousin's house, so we could have a super-girly dinner.
Sunday we had a "tea party" breakfast with orange-chocolate-chip scones, two kinds of tea, and yogurt-fruit-granola "parfaits" in martini glasses, then the four of us went to the swap meet. Sooooooo much shopping, and all for super cheap! I got a top and a dress for $12, the parasol for $2, a bunch of earrings for $5, a purse and matching wallet (the same exact set I'd been pining for from Icing, but I paid $8 for the set instead of $30!), lots of hair stuff, new sunglasses... I don't know what all else. Jenna also got a big rug for her new apartment for just $40, and Mom got two pair of shoes, a hat... Yeah, there was major shopping.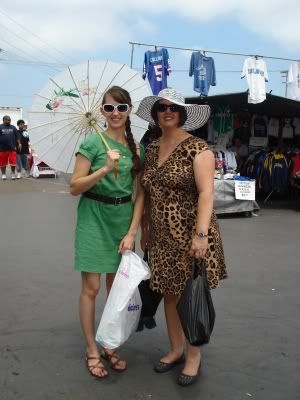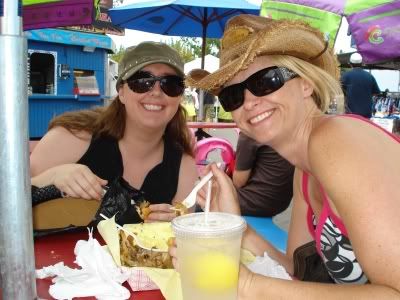 Snack time! (Jenna and Lori)
That night we had a nice dinner with the whole family, as well as Curtis' really sweet girlfriend, Sarah. We watched
Holes
, which I hadn't seen in forever. It's still wonderful! :) (Please read the book first if you haven't seen the movie! They're both great, but of course the book is better.) Then Curtis played a new song he'd learned on his 12-string. He has a minor guitar addiction, and by "minor" I mean he has about 6 all over his room.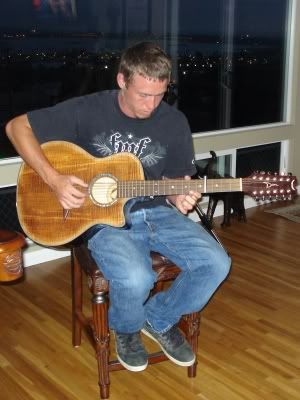 Jenna got up early Monday morning to head back to Orange County and work, booo. Mom drove Lori to work so we'd have the use of her car all day (and she caught a ride back with Jeff). Then we hit the thrift stores--hard! One called "The Buff" was supposed to be awesome, but was mostly full of cheap-o Halloween costumes and castoff 90's clothes, though I did find some dark turquoise, velvet, high-heeled shoes with rhinestone buckles on them! Up the street was "Thrift Trader," where everything in the store--t-shirts, skirts, movies, CDs, jackets, everything--was either $5.99 or 4 items for $20. We made out good there!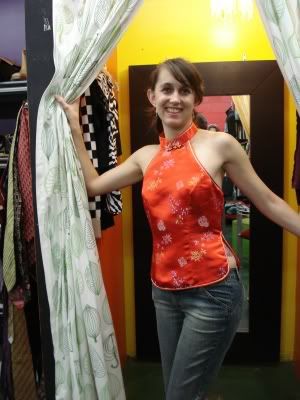 I got this top, as well as a bunch of cute
WWF
t-shirts and a black cropped jacket that will be good for teaching. Mom got a bunch of CDs.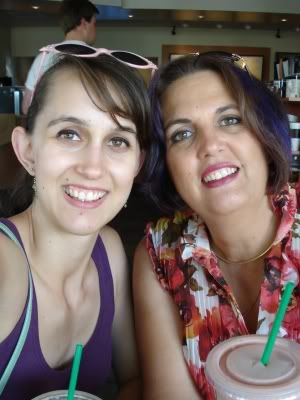 We then made our second Starbucks stop of the day for a little pick-me-up before heading to AmVets, a huuuuge thrift store the size of a warehouse. (All the proceeds went to support veterans, yay.)
Mom did not get the overalls, I just wanted a picture of her in a thrift store, too. She did get a tablecloth, and I got a couple of dresses and a pair of brown patent-leather peep-toe heels. I've been needing good brown shoes!
Exhausted, we returned to Lori and Jeff's and put our feet up!
The next day we went to the Gaslamp District, which is full of historic buildings such as: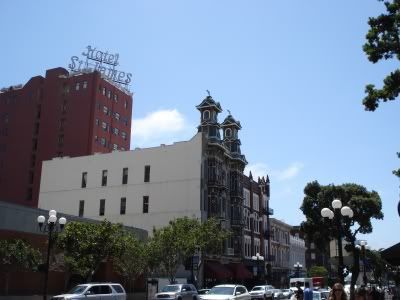 Pretty, huh? Also, gas lamps! Although of course they're electric now. We spent pretty much that whole day in the Horton Plaza Mall, again, shopping til we dropped. (Why I kept wearing high heels, I do not know. Oh right, cuz they're cute. Beauty is pain.) We finally rested our feet at
Quarter Kitchen
, the restaurant of the Ivy, a fancy-ish hotel. There I met, in person, Jen from
Somewhere Knitting
! We've been internet friends for around three years now, I think! She lived about two hours south of San Diego, and since she would be moving back east a couple of weeks after and we would likely never get the chance to meet again, we decided to have dinner that night!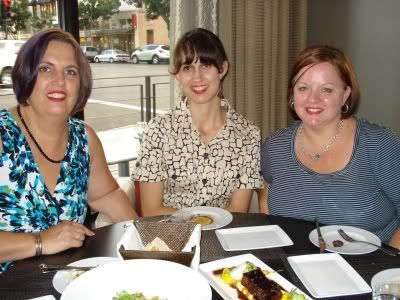 It was really great to talk to her face-to-face, and I'm so glad my mom could meet her, too! (They'd been Facebook friends for a while; somehow they remind me of the other.) Jen, thanks again so much for driving all that way to see us!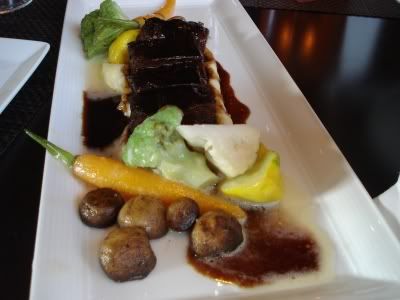 This is the most amazing braised beef I've ever had, it just fell apart in your mouth! Tiny carrots, tiny potatoes. The restaurant was so fancy that the portions were leeetle, but we got two appetizer-entree-dessert orders and shared between the three of us; it was just right.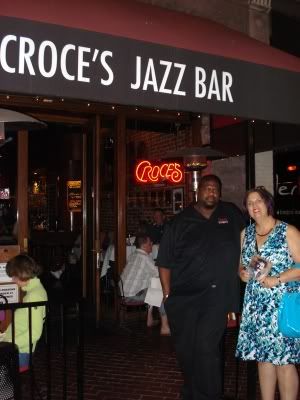 Like I said, Mom has fond memories of Jim Croce and his music from her high school days, so we went to his restaurant and jazz bar to check it out and buy a souvenier. (He died in a plane crash years ago, so it's not really
his
restaurant, but anyway.) It wasn't quite what we were expecting; there was a very loud band in one corner (good, though!) and the "gift shop" was a locked glass case in the back by the restrooms which contained a few box sets, some DVDs, and some t-shirts. Oh well. Mom got the 30th anniversary box set of two CDs and a DVD of live stuff, and took a picture with the bouncer! Then we took the trolley back to the depot (we'd taken the bus into the District, so we got both experiences--the trolley was a lot faster--in order to not mess with and pay for parking downtown) and drove a couple of miles home!
This is a very long post with a lot lot of pictures, so I'll wrap it up for now. Part 2 coming soon! (Hopefully tomorrow.)
P.S. New banner up top, RSS readers!