1. The trip last weekend was fun! :) Friday night we had dinner with the graduate--Matt's little sister, Katie--as well as her husband, mom, grandmother, and some friends.
2. Saturday, she graduated.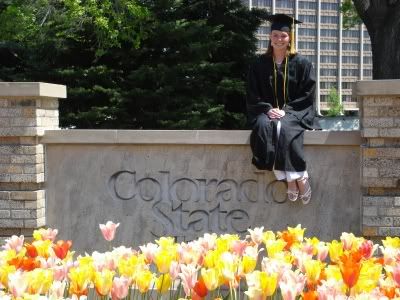 3. We then went to a large-ish graduation party held for Katie plus four of her husband's relatives (cousins and such, I think) since they were all graduating from various colleges and high schools. Why not combine all the parties into one big one, right?
4. Sunday we (me, Matt, Matt's dad, and his stepmom) spent most of the day (after sleeping in and lazing around, then having a fantastic buffet lunch at an Italian place) at the Denver Art Museum.
There was a funny sculpture in the front of it: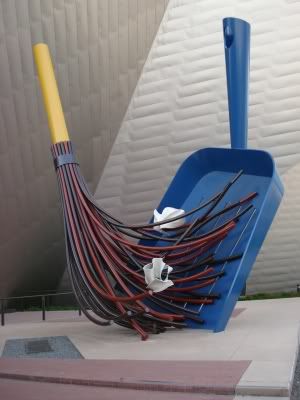 and another one in front of the Denver Public Library, right across the street:
5. We had early dinner at a little hole-in-the-wall French place in downtown Denver: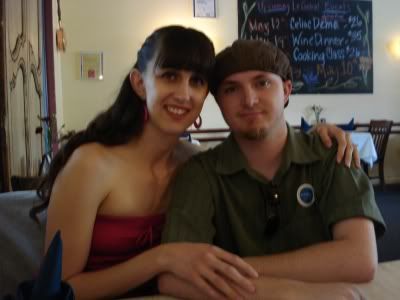 6. Monday morning we had breakfast with Matt's older sister and her two little boys (our niece was in school), then drove home in absolutely beautiful weather.
7. Sorry this is so short and abrupt. It's very late and I'm very tired. I've been very tired for a few days. I always feel discombobulated after a vacation, and it didn't help that I closed three nights in a row, which I almost never do. (I almost never close, period.) So we have had no real dinners, no clean laundry, not much to pack for lunches... I'm feeling scattered and a little stressed.
8. Therefore, I'm going to be taking a little bit of a break for the next few days. I do have to work, of course. (Bleh.) But I'm not going to do any "extras" if I can get away with it. As little internet time as I can bear, though I will keep up with blogs and Facebook for the most part. No IMing, no messing around. Just checking what I need to keep up with. Also no running around town and not meeting up with friends. Much as I like all that, I just need to be home for a few days.
I also want to get the house back in some kind of order, Lord help me! I want to get to bed at a decent hour, feed myself and Matt decently, and do good things for myself: eat fruit, take walks, stretch, knit.
I shall return in full, as usual, in the middle of next week. Once my house is a little less cluttered, hopefully my brain will follow suit. I'll be able to make a couple of Big Life Choices that have been looming over me for a while and feel more at peace. (Even if not everything gets decided and ironed out, I want to still feel at peace. Oy, pray for me.) Have a lovely Memorial Day weekend! May your hamburgers be tasty, your lemonade/beer refreshing, and (for those of you in town) the JUCO fireworks show spectacular!