1. Fairly brief tonight because we're going to see the new X-Men movie in a couple of hours, and I want to get in as much sewing time as possible between now and then.
2. This is what I've been seeing for half of today: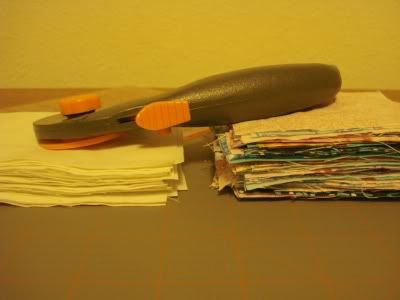 I've been chain-piecing colored squares to white rectangles (and before that, cutting out lots and lots and lots of white rectangles). I have three strips done, and will probably have ten, total. With the plain white strips between the pieced strips, I think this thing will be big enough for a twin bed!
3. Went to Goodwill yesterday, and made several great scores: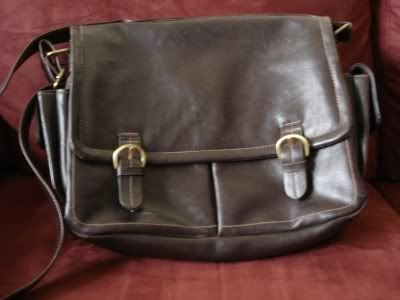 Real leather, I think, and for only $5! Lots of great pockets, but not too many, and they're not too hard to get to. Very steampunk-looking, I think (and would go with my
sky pirate/adventurer look
nicely), nice size, good strap length, and it could even double as a "manly diaper bag" for Matt when the time comes. IF I let him have it.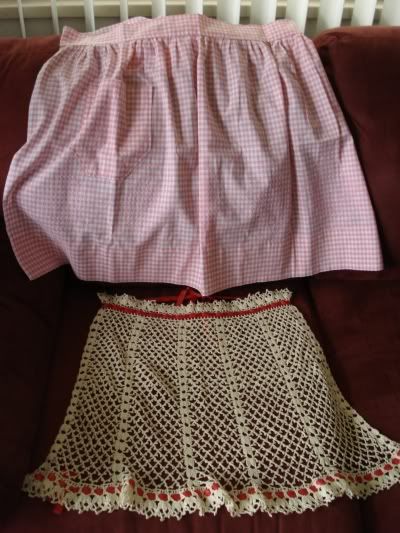 Vintage aprons! I'm pretty sure the bottom one was hand-crocheted!!! And the top one has light pink
chicken scratch embroidery
on it, which you can't really see in the photo (and you can hardly see in real life, but which looks very sweet).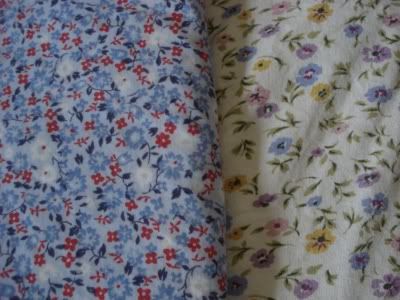 The blue and red is a Martha Stewart sheet (from her line at K-Mart, I'm assuming) which will likely become a skirt or dress, and the pastel floral is a knit sheet that will become pjs--I think shorts and a cami, maybe with a short robe if I have enough.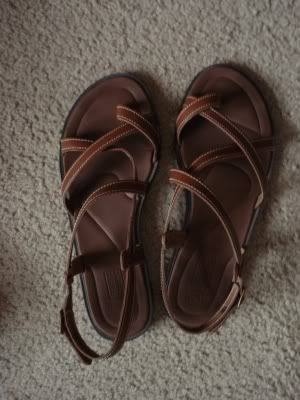 I didn't have brown sandals! But now I do. Love them!
4.
Tweenbots
. This is adorable. Someone made little cardboard "robots" and then set them going (in a straight line only) somewhere in New York City, with a flag attatched asking passersby to assit them toward their destination, which is printed there as well. Watch the video, it's worth it!
5.
Possibly the cutest handmade toy(s) ever
.
6. I've begun tagging my posts, which you should be able to see in the sidebar. I don' think I'm quite halfway through, but maybe 1/3. I'll tag each new entry from now on, and just do a bit at a time from the past ones til I'm all caught up.
7. I haven't really written anything since
my last post
, but I want to! I'm going to! Keep cheering me on/bugging me about it.
8. I did not put a ruffle on
my new halter dress
. I'd situated the skirt lining so the nice, even hem of the sheet it was cut from was the hem of the skirt, and if I cut off the outer fabric to shorten it and add a ruffle, I would've had to cut off and re-hem the lining, which would've been more work, and anyway, I'm almost out of white thread and wanted it done LAST NIGHT NOW instead of waiting. I can always put a ruffle on it later if I change my mind (and feel like hemming the lining, and buy more white thread).