1. I know I missed last Friday, but I was visiting my mom and my aunt from Idaho, who had come to stay with my mom for about a week. I didn't even bring my laptop! (Though I did use Mom's to check my email and Facebook a few times.)
2. I am sooooooo fullllll of Red Lobster food! Matt's mom sent us a gift card along with a Valentine's Day card. Thanks, CJ!
3. I'm still loving the rag curlers! Yesterday, after just wearing my rag-curled hair down with a hairband to work the previous day, I put it up.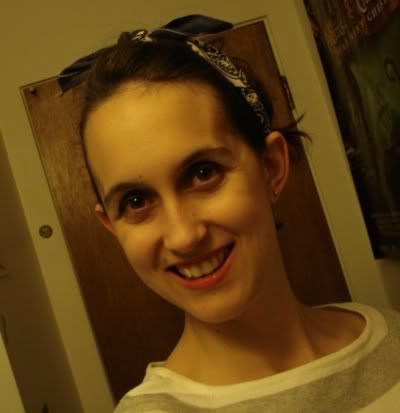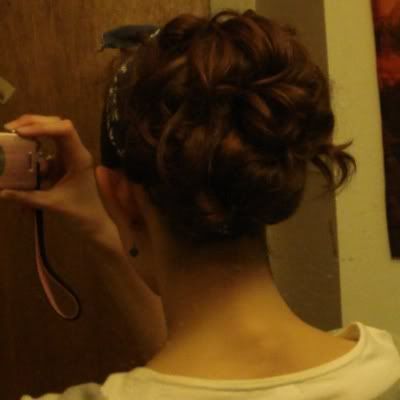 I really liked it! I can see myself doing this a lot this summer when it's hot; the bandana will keep all my hair off my neck, my hair's not in my face, and having a clip with bobby pins tucking the curls down to hide it doesn't make my hair feel too heavy at the back of my head. I wore it a good eight hours and was fine. I still want to work on the little "pompadour" poof at the front. I think I might need some kind of styling... mousse, maybe? Spray? Any thoughts? I'd lik a bit bigger of a poof.
4. I'm still really enjoying my class. I STILL have two or three short-ish readings to catch up on and take notes in my log book, but... I'll get there. This last class was a "panel" of writing professors talking about how they teach and why they teach that way. I have about three FULL pages of notes, and it was interesting to hear these professors I'd had when I was earning my English degree (I'd had 4 out of the 6) talk about the way they taught. Some of them were very different from the others, some were the same, but the reasoning behind all of it made sense. And now that I think about it, a lot of the advice was really just common sense--be flexible because what works for one class may not work for another; start simple and go toward complex--but hearing it articulated and out loud made it sink in. I have a lot to work with even after that one session, to decide how to teach in my own classroom someday!
5. You should all go look at
Jen's
fabulous (nearly) finished "
charm" quilt
! I'm so in awe! It seems really simple, but looks pretty time-consuming. However, if I were ever to make a quilt, I think I could make one like that. I love how the colours just POP against the white background! And it looks so vintage-y, like the quilts women used to make out of, literally, whatever they had laying around, since that was all they could afford! (If you couldn't tell by my hair, I'm getting into the 1940s lately! All the WWII stuff about being thrifty and "V for Victory!" even in hairstyles, and such.)
6. I believe I mentioned that I taught our friend Liz to knit when we were visiting her and her fiance last month. Here we are: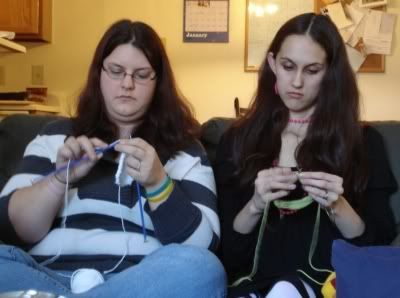 She's working on a cotton washcloth and I'm working on a baby hat. (See note below.)
Recently, I've also taught Jen from work to knit. (I know a A LOT of Jennifers. Jen from work, Jen from Florida, Jen from California who was formerly from Florida, and Jen my cousin. Anyone who reads my Facebook will now know that they are taking over the world.) I love sharing the knitting joy, especially when the "student" really seems to love it and just takes off learning stitch patterns and various skills on their own! I'm not sure how Liz is doing, but Jen from work seems to still like it!
7. My camera was so full as of yesterday's hair photo-shoot that it would not hold any more photos! WOW. So I dragged everything into a "clean-out" folder to sort through later.
8. I got the entire series of Gilmore Girls on DVD for Christmas from Mom and Dad and have not watched a single episode yet! I think I shall go remedy that tonight. Yay knitting and Gilmore Girls. (Speaking of knitting, I should take pictures of all the baby hats I've made in the past few weeks! I did tell you I know 6 pregnant women, one of them having twins, yes? And they're all due either this summer or this fall.)