Instructions: take a picture of yourself right now. Don't change your clothes, don't fix your hair--just take a picture. Post that picture with NO editing. Post these instructions with the picture.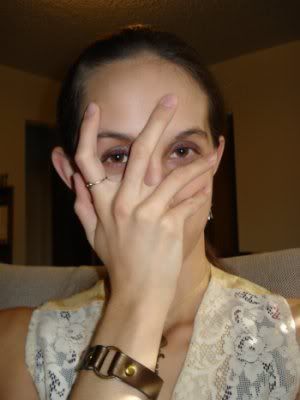 I was feeling a bit silly. Ooh, and lookit my new bracelet! It was $1.49 at Michael's and it looked steampunk-ish to me. I might add a few odd little charms onto the ring in the middle, or not.
Okay, I tag:
Carrington
,
Jen
, and my
cousin Jen
!
Sarah
's already taking pictures of herself this week. I got this little game from
Danielle
.