Da-na-na-na-na-na-na-na -- Tequila!
The strawberry margaritas were less than successful, but I think that's just because none of us liked tequila that much. It just seemed like a good bachelorette party drink! Oh well. Back to Cosmopolitans next time.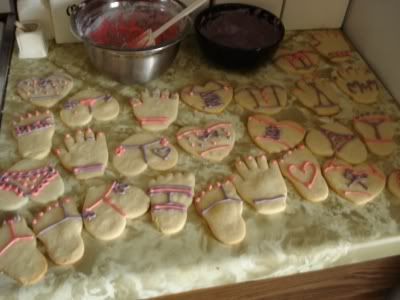 Cookies! Panties, bras, hands, and feet. All baked and decorated by me. We also had chocolate fondue with mandarin oranges and pineapple to dip in it.

Heather, Lisa, Carrie, and Megan


Carrie had something else to go to an hour into the party, so she didn't dress up. But she's also about a foot shorter than the rest of us (
and
we were all in heels) so I scooted her up. You're not allowed to see the outfits because we were a little scandalous, since it was just us girls. But it was fun!