1. I don't know if I'll do this every Friday, because when I decide to do something like this, I do it for a few weeks and then forget about it or lose interest. But it's a good way to update on all the random little things going on, and putting exactly eight things in the list is an interesting exercise.
2. The tattoo is still pretty dang itchy. I guess that's just what stuff does when it's healing up! I'm getting rather sick of smearing Aquaphor on it multiple times a day, though. There are no raised lines or peely bits anymore, nothing feels flaky or scabby. And it's not the "goo" i mind so much, it's the whole wearing a tank top under everything to keep the goo from getting on my nice clothes that's getting obnoxious. So I think I might try just regular lotion that actually rubs in, and see how that goes. Any thoughts? Anyone else that has tattoos and can give me advice? (Jenna and Jen, I'm looking at you!)
3. I volunteer to work in the nursery at my church every other Sunday, and also put down my name as a possible babysitter. About a month ago I got a call from someone who got my name that way, and she wanted me to help with childcare for an event at her church. Well, that's tomorrow, and when I talked to her about it a week ago, she said they still hadn't heard if any kids were even
coming
. (Apparently this church is mainly populated by elderly people, or people with grown-up kids.) So I really hope I didn't give up a night of working at my real job, where I would make more money, and not even have any kids to look after....
4. I bonked my hand against the counter at work, and hurt my knuckle so it bled. Knuckle wounds are so annoying! Ow!
5. ONE MORE WEEK TIL
NANOWRIMO
STARTS!!! I've just wanted to WRITE the thing for a couple of weeks, now, and at last, it's almost here! I can't wait to see where the story goes, what Bernice "sounds" like, and everything else. And I'm eager to see how I do when I'm actually writing for an audience, since each day I'll post what I've written onto
Miss Greenwater's blog
, as her diary entries. Do I even know anyone that will read 1,667+ words every day for a month? And will I like it enough to continue with the story it even after November's over (though on a slightly more sane schedule)?
6. (I just typed "7" here because I wasn't paying attention. It's been a long day.) I'm on Twitter, as you can see in my sidebar. Add me there if you want! Also in the sidebar is a poll; not sure how fun that's going to be, but I was bored and looking at the Blogger "toys" and thought "why not?"
7. I made another pair of bloomers yesterday! It SHOULD have taken me about an hour and a half,
maybe
two hours, but I had to screw with the waistband because I made it too wide to begin with, then, as usual, the stupid buttonhole function on my machine frustrated me to death and I ended up sort of fudging the buttonhole and doing part of it by hand, part on the machine. Rawr. But! They are high-waisted, since many of my skirts seem to be high-waisted, and instead of an elastic waist, they have an opening on the right side about six inches long, and they fasten with a button at the waist. The pattern is sort of my own design, though I used an actual pattern to cut the leg pieces, and was inspired by something on a steampunk forum I belong to. But I'm very proud of myself for doing the waistband and the side placket all by myself! :) Oh, and they're flannel, so nice and warm!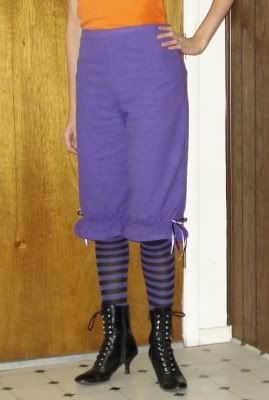 The elastic gathering at the knee didn't turn out quite how I wanted it, but it's fine how it is. And I like the black and purple bows on the sides!
Okay, part of me can hardly believe I'm about to showcase my backside on the internet, but I'm rather proud of the "butt pleats" I put in. The pattern I used for the bloomers is a modern one and is meant to sit on the hips. Well, my hips are wider than my waist, so for the circumfrrence of the hips to fit into the circumference of the waistband, it had to be gathered or pleated. Hence the butt pleats: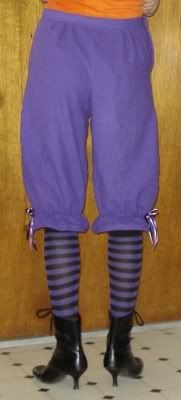 The flash kinda washed them out, but they're there. I think it looks very old-fashioned, "saloon girl!"
These will be lovely to wear under my long skirts this Fall and Winter to keep warm. I have lots of knee socks! But above those, my legs get a little chilly sometimes when I'm walking. Yay bloomers! (Feel free to roll your eyes at me now.)
8. I won a contest at work last week and my prize was a ten dollar gift card! I used $5 of it to buy
Sleepy Hollow
. Yay, something to watch on Halloween! (I'm also thinking I need to Netflix
The Nightmare Before Christmas
soon, too, though you can watch that any time from October 1st to December 25th, in my opinion.)