Guess what we got today!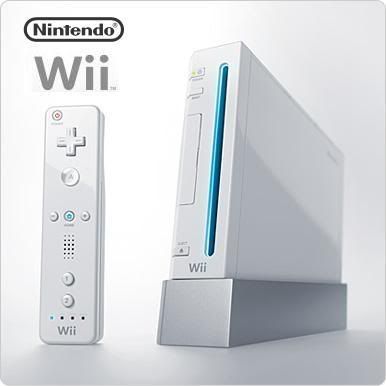 It's so cool and white and shiny and spiffy and.... Woo-hoo!
Matt and I both had really good paychecks today. Plus, we get paid again before the first of the month and all the bills (and rent) that means. After figuring out what we needed to pay for in the next couple of weeks, we seemed to have a fair bit left over. So.... we finally got what we'd been wanting for months!
It came with one game and one controller, so we got another controller as well as a charging station so we won't have to buy batteries all the time. For right now, Wii Sports is fine. We played bowling and tennis, and then I "trained" a little with the other games. Man do I suck at golf! I'm not too great at baseball, either, but I'll get better.
It's just something fun and silly Matt and I can do together. It's not anything difficult and involved like a lot of other video games, which is why I'm not a video game person. Just swinging around a little controller and playing easy games. Eventually I'd like to get Wii Fit (maybe for Christmas?) and do yoga and stretches and whatnot. But for now, this is good!