An art gallery/vintage store downtown occasionally hosts arty things, and the first Thursday of every month through December (I think), English faculty from the local state college will gather to do readings. Three or four professors read at each event, and the three who read tonight were all professors I took classes with at some point in my college career.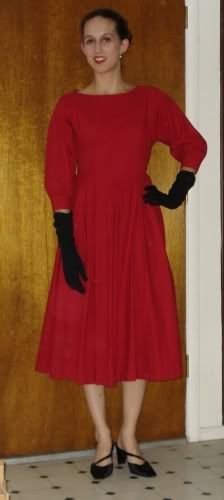 It was nice to say hello to them, and to some other professors who showed up to watch. It's also always good to see the proprietress of the shop. She loves wearing vintage things like I do, and we always enjoy seeing what the other is wearing to these get-togethers.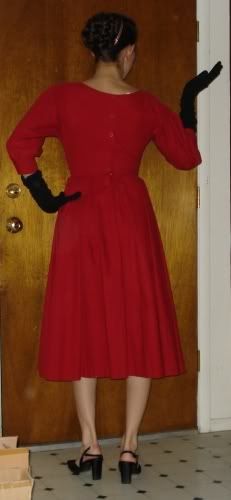 You know I love any excuse to dress up! The gloves were a dollar at the Goodwill last time I was there. Five more pair of vintage gloves (all but one or two handmade, I'm pretty sure) for 99 cents each! Three black, one light pink, and one brown leather, this time. Fabulous! The shoes were $2 at the Salvation Army a couple of years ago, but I got them for $1 since all shoes were half-off that day.
The dress is from a consignment shop I checked out while visiting my mom a while back. This is one of the ones my aunt bought me on that trip. I'm spoiled! It's Laura Ashley and Made in Great Britain, according to the tag, and can't be too old, I don't think. I want to say 80's, but there are no shoulder pads. The 50's cut of the dress makes it hard to pin down, but I'm almost certain it's not actually from the 50's. It has pockets! It had been marked down and marked down and marked down, and I (or rather, my aunt) got it for TWO DOLLARS!
Fun night! :)