I think I have Christmas on the brain....
I do indeed have my tree up and decorated, except for the topper. We, ah... ran into a little problem with that.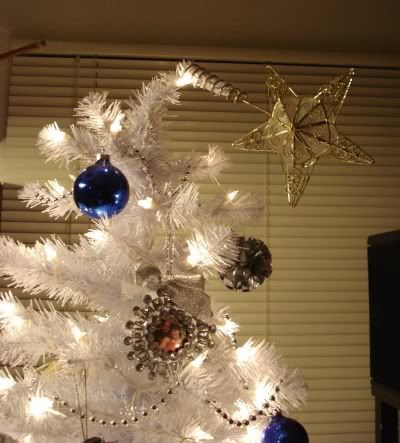 It's cracking me up. Guess I need to go get a lighter-weight topper soon! I'm thinking blue. Full tree pics once that's up.
Oh, and by "we" ran into a problem, I mean "I." Matt's not a big holiday spirit kind of person, so after he helps me set up the tree every year, the rest of it's pretty much up to me. Oh well, I'd rather do it my own way and have it look the way I want it! I'm such a control freak. (Wonder where I get that? *Coughmomcoughcough*)
Happy December 8th! Now I'm off to start
Bernice's
post for the day! No wonder I haven't been blogging much, all my writing time is taken up by her!