1. Matt and I are going to see the new 007 movie tomorrow after I'm done with work. Yay!
2. This is what (my half of) the Netflix queue looks like:
Mr. Magorium's Wonder Emporium
Night at the Museum
Kung Fu Panda
Wall-E (when it comes out) - (I think I'm in the mood for kid movies...)
Starter for 10
Priceless
Bride and Prejudice
Saawariya - (and silly cute movies)
Matt's half (we alternate a Matt movie and a Heather movie so we have one of each at a time) is Mythbusters and old James Bond movies.
3. I finally got my package sent for the Steampunk - Alter an Item swap.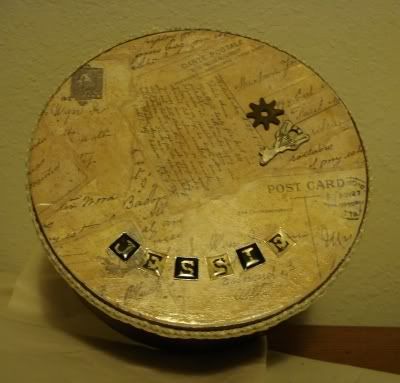 I altered a "hat box" from Michael's.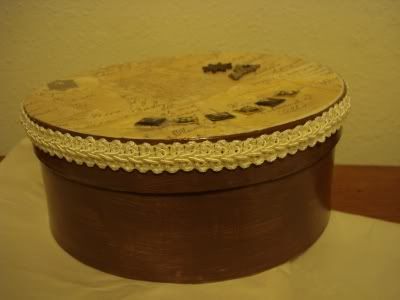 Painted the outside brown, then gave it a clear coat to keep it on. Decoupaged vintage-looking scrapbooking paper onto the top and added my partner's name with typewriter stickers, as well as an old key and a gear. Then I hot-glued some fancy trim around the edge of the lid. I think it turned out nicely, and I hope she likes it!
4. The store meeting for this Sunday evening was cancelled so the Ops (Operations) team--i.e. cashiers and customer service--get to have our bowling night after all! I don't think I've been bowling since about 8th grade. I should bring my camera!
5. This is the fabric I'm going to make an apron out of!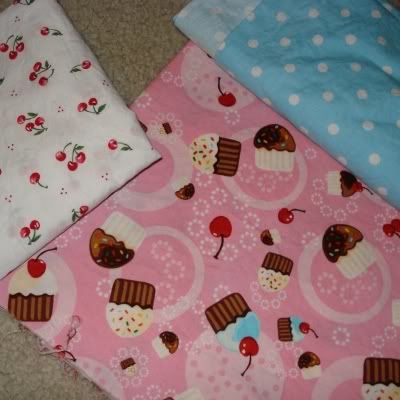 How flippin cute is that?? I spent over an hour in the fabric store because I couldn't decide. I couldn't find anything I liked in the colours of my partner's kitchen. Then I looked at "shabby chic" stuff, since she said she liked that, but didn't like any of the fabric combinations I could come up with. So I got this awwwesome cupcake fabric, and matched it with the polka dots, which will be the sash and ruffle, and the cherries, which I think will be a pocket, if it looks okay. If not, the pocket will be out of the dots. Eeeeeeee so cute! Even if it doesn't match her decor, it will still be adorable. Hope she likes it! There really isn't such a thing as "too cutesy/girly" for me, personally (mostly), but when I'm making cutesy things for
other
people, they usually have a line, and I'm afraid I might cross it sometimes. It's hard to know.
I should take a pic of the super cute apron
I
got in the swap. I should put on my "Donna Reed" dress and pearls, though. If I'm gonna do it, I should do it right.
6. Our Thanksgiving plans are to STAY HERE. Matt and I will both be working the day before and the day after, so there will be no driving down to visit my parents (his will be out of town) and stay the night with them. And it's tiring to drive down there, hang out for a few hours, and drive right back. So instead, my mom and dad will be driving up here, and we'll go OUT to eat! No stress, no mess, no clean-up. (I think I just sounded like a
Reynolds
commercial.) Afterwards we might come back to my house and watch a movie and eat pie. And then go to bed early once Mom and Dad leave, so we can charge up for Black Friday! Doooooooooooom!
7. Speaking of Thanksgiving, here is some of the decoration I put up yesterday: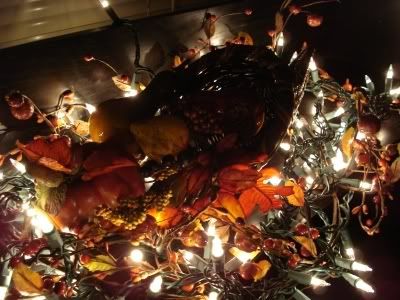 It's a little hard to see, but I wanted to show how nicely the lights glow when it's dark in the living room. It's a little cornucopia with fake gourds inside, sitting in a "wreath" which is a fall garland with little berries and such on it that I wrapped a string of white Christmas lights around. I like it a lot! :)
8. Too brain dead to think up one more thing. AND I still have to write some on my novel tonight. *SIGH* Wish me luck! (P.S. I'd appreciate it if you weighed in on a
very important decision
in my previous post, if you don't mind. ^.^)