I did EVERYTHING for this apron in one day, including buying, washing, and drying the fabric. I sort of traced an apron I got from a Swap-Bot swap in order to make this one, though I made it a little less complicated than the one from the swap.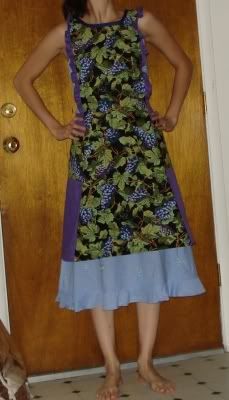 This is me modeling it the night I finished it. The light purple underneath is my cotton dress, not part of the apron.

It was my for friend Megan's bridal shower (I'm a bridesmaid, remember?) yesterday, and it was well recieved, which made me happy.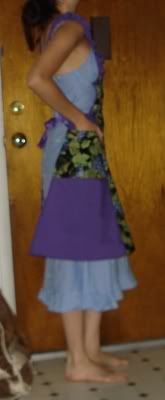 The fabric is black printed with grapes on the vine. Last I heard, she was doing her kitchen kind of winery/northern Italian, but now it seems they're painting it green and cream... so I don't know if it will still match, but I think (hope) she'll still wear it occasionally.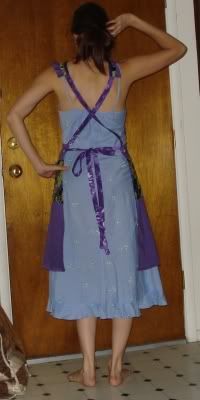 The ties, which are bias tape (I LOVE BIAS TAPE), criss-cross in the back, then slip through buttonholes and tie in the middle, making it adjustable.
While I was waiting for the apron fabric to wash and dry yesterday, I whipped up some wrap pants from $1/yard fabric. (All the red tag stuff is half off again at JoAnn's and they had some... well, I'm not sure what it's called. Lightweight crinkly cotton stuff.) They seriously took me about half an hour total, and that's with cutting it out and everything. Sooooo easy, and fun! I think they'd made a cool swimsuit cover-up, too. Next time I need to make them a little wider, since they gapped a bit
too
much at the sides and I had to safety pin them at the knee, but now I know. I want at least another pair or two for the rest of the summer!