1. This fabric: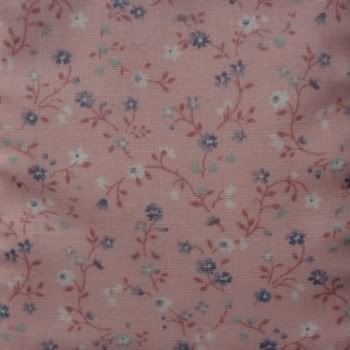 I got it more than a year ago, when I just started sewing. It's since become 1/4 of a
tiered skirt
, which I love and wear all the time, and after using a bit for another project yesterday, I still have a little less than 1/4 of a yard, which I'm sure I will hoard for just the right project someday. Love it.
2. My "Chore Pockets" which I made from the above fabric and the leg of some of Matt's old jeans.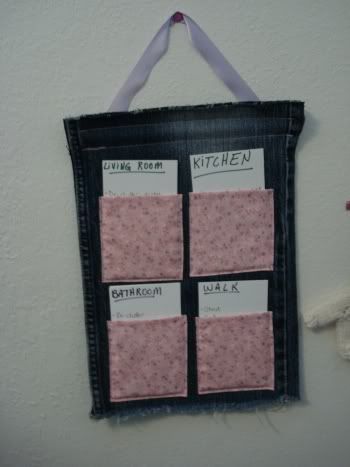 Everything starts out in the left pocket and moves to the right pocket as I get it done. The top is daily, the bottom is weekly. It's hanging just to my left as I sit at the desk, so I can enjoy the cute fabric, and be reminded of what I need to do every day.
3. Coffee with cinnamon in it. Some days I'll make regular coffee with about a tablespoon of Caramel Truffle (or whatever flavour I've picked up) coffee in it. That way the splurge on flavoured coffee lasts a long time, and I don't just drink regular coffee every day. But sometimes I'll put a shake or two of cinnamon in the filter before I brew the coffee, and yesterday especially it turned out quite delicious.
4. My husband. It seems kind of silly that he'd be on this list, since of course I love him--he's my husband! But I really do love and appreciate him. Yesterday he worked 6pm to 2am in order to paint his department at work. It was just him and two of his managers all night, and he came home with bright blue all over his pants--he tripped over a paint tray--and flecks on his arms and shoes. I was still awake when he got home, in part from the
tea I'd drunk
earlier in the night which was, apparently, not decaf, but also because it feels weird to sleep in our bed without him. And I was just so happy when he got home. (Yes, you can go gag now. Sue me.)
5. My hair the other day: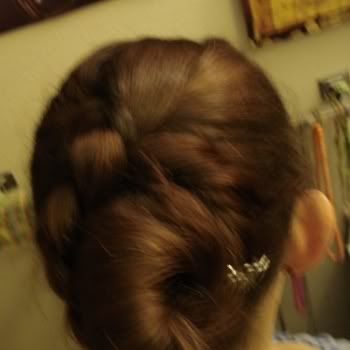 (It's really difficult to photograph the back of your own head!)
I'd washed my hair Friday morning, but the first day it's clean, I have
Hermione Granger
hair. Not the pretty waves they gave her in the movie (*eye roll* don't get me started) but the insane frizz she has in the books. So for work that afternoon, I decided to fix it fancy, since I had the time. Still damp, I braided the top half of it, then put the bottom half in a bun and sort of wrapped the braid around it. I hid the braid's rubber band with a little butterfly barrette I think I may have worn once since I got it back in jr. high.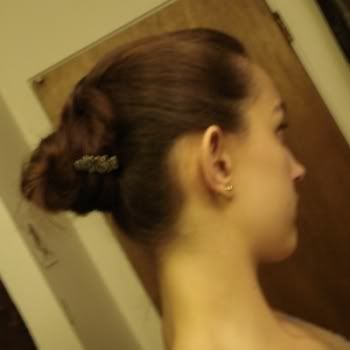 It stayed in really well all night, and was, unsurprisingly, still a little damp in the middle when I let it out.
6. My writers' group, the Dames D'plume. I mentioned A___'s writing last night, but I was really really excited to hear the excerpts of our other two members as well (and I hope my own wasn't horribly lame in comparison like it felt). Clearly I was inspired by the meeting, if I couldn't stop thinking about building some steampunk-y world of my own, but just hearing the successes of other writers whom I knew and respected was uplifting. I'm so glad I have it to go to every week!
7. Sewing! I got Matt's breeches almost finished the other night when I posted. They're still waiting to be hemmed at the bottom because he's not sure if he's going to tuck them into boots, or just wear them long. But I also have my friend, Megan's, pants for the faire done. They're loose and baggy, dark green satin. She's going as a belly dancer (*resists rant on historical innacuracy*) and I think they turned out really well! Today I hope to at least get my
chemise
cut out. The sewing itself is extremely simple--just rectangles fitted together, then a lot of hemming and very long seams--but time-consuming since it's such a large garment. I'll probably wear it as a nightgown in the winter, probably with a shawl.
8. Shawls. I think they're pretty and romantic, and they make me feel old-fashioned. (Or more old-fashioned than usual with all my long skirts and weird jewelery.) I only have two right now. One is black and made of some slick, nylon (I think) cord, almost, with a pretty lacy pattern and long fringe, but it's not warm at all. The other: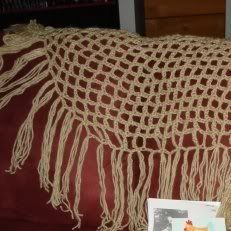 was crocheted by a friend and I LOVE it. I think the yarn is just acrylic, not wool or something you'd think would be warm and cozy, and it's very holey, but it really does keep me warm when it's wrapped around my shoulders as I sit at the computer desk or on the sofa with a book. At the Dames D'plume yesterday, I finally picked up and explored a shawl C___ has had draped over a chair every time I've been there. I resisted previously, but couldn't stand it anymore. I stood up and tried it on, a pure white, very light confection of (probably) polyester with delicate fringe and a floral pattern. The other girls said I looked very writerly with my long, full skirt, and made me pick up the quill A___ had brought for us to play with and pose with it.
9. Quills! Speaking of. A___'s looked very like
this one
, and after Carrington and I played with it, I wanted to come home and get out my pen and nibs, which I hadn't done for years. The pen's just plastic, but I have a handful of different nibs for it, several of which are wide and flat. I used to play around doing calligraphy, and while all of my ink but the silver has dried up, I kind of want to get out my nice calligraphy paper, buy a new pot of black ink, and write a letter with it all! I scribbled a bit with the silver ink on some black paper last night, and did the alphabet as I remembered it (which was not very well) with one of the wider nibs. Fun! Geeky!
10.
This song
. I watched
Once
the other night, and have been singing this in my head almost nonstop since. So lovely, such a beautiful harmony!