Sarah got the "holiday" right; today is Harry Potter's birthday! Anything you would like to ask for me to post about, Sarah?
I'm not sure why the deadline for the Harry Potter swap was yesterday; today would have been much more momentous! But here is the package I sent my partner. (If you haven't at least seen a couple of the movies, much of this will make no sense to you, sorry.)
I enclosed a letter inside a card with the Hogwarts crest on it, pretending I'd taken a trip to Diagon Alley to pick her up a few things. I sealed the envelope with red sealing wax and my "H" stamp.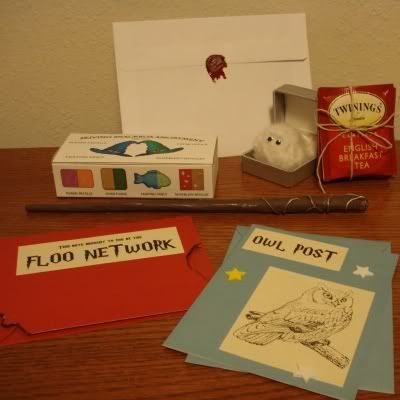 Here is the whole package!
-Two cards, one Owl Post, and one Floo Network. The Floo card got singed on the way. Boy did the house smell like burning paper after I did that one! I freaked Matt out by not telling him first, whoops.
-A Skiving Snackbox (link to come, the site is being weird), which was empty because the
Pygmy Puff
(scroll down) had eaten all the snacks
-The Puff inside a little jewelry box
-A packet of tea bags (very English, right?)
-A wand I made from
this tutorial
. SO COOL yet so easy! I might make myself a new one for the movie release in December.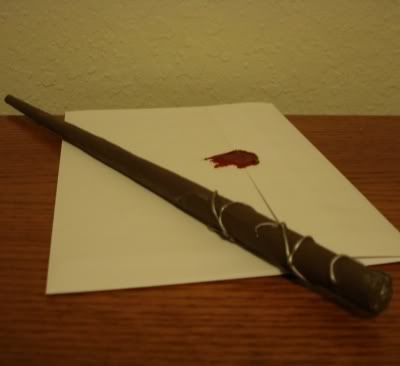 Closeup of the wand and card
The notes I left on the wand and the Puff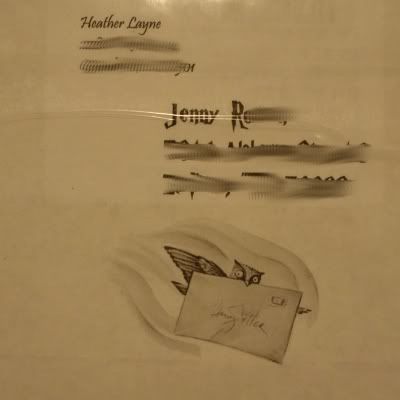 The address label I made and printed out.
I'm really excited to see what I get in the mail soon for this swap! It's really disappointing when I put so much thought and time into the package I'm sending, and then get a mediocre one in return. This happened to me several times in knitting swaps hosted on LiveJournal, but so far I haven't really been jilted on Swap-Bot. I've never been totally flaked on, i.e. received nothing, and I've only got some "eh, lame" stuff once.
And, just because, here is a
Golden Snitch costume
I thought was hilarious.
My very very sweet friend, Ericka, sent us an anniversary card today, with a gift card to a restaurant, so Matt and I are going out to eat in a bit! Thank you thank you, Ericka, if you're reading this! Matt got me the first Narnia movie, as well as a Prince Caspian action figure! Silly, but fun. And he just wants money toward a new car stereo, borrrinnng! But it makes him happy. Instead of wasting money on cards, we decided to go out to coffee sometime next week.
I hope you all have a lovely evening too!